Some of the most beautiful beaches in the Canary Islands can be found in Lanzarote. The beaches in Lanzarote range from coves with the iconic black volcanic sand to long stretches with golden sand and turquoise waters. No grain of sand was left unturned in the search for the best beaches in Lanzarote.
Discover in which municipality the beaches are located in and plan which ones to visit from your luxury holiday villa in Lanzarote as well as what to expect upon arrival.
Playa de Famara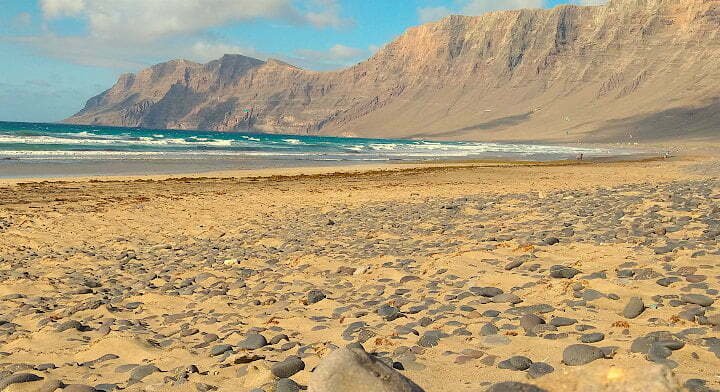 What appears to be a never-ending beach does indeed extend into kilometres. It is frequently quite windy up in Famara, so if you are planning to eat on the playa itself be prepared for a sandy salad. There are a few bars that over look the beach where you can grab a bite to eat or refresh your self with a cerveza or a glass of vino.
Playa Famara is one of Lanzarote's best beaches for catching waves and is a surfing hotspot. Magic Seaweed is a popular surfing school and offers a free 10-day surf forecast if you're planning on riding some waves during your holiday.
Municipality: Teguise 
Beach length: 6 kilometres
Best for: Surfers, naturists.
Playa de Papagayo
There is not just one beach at Papagayo but a whole chain of them. The main Papagayo beach is the last one that you will reach before you arrive at the Punta del Papagayo, travelling east from Playa Blanca. These secluded beaches are best travelled to on foot or by jeep along a dusty old track. You could just get a water taxi, which is more fun.
Make sure to bring your own supplies with you. Food and drink or alternatively you could eat in the beach bar chiringuito, which is set above with great views of Papagayo cove. What an amazing place to watch the sun set with all its fantastic colours. 
Municipality: Tías
Beach length: 120 metres
Best for: Families with young swimmers, snorkelers.
Playa Francesa
If its isolation you crave, hop on to a ferry from Órzola to La Graciosa, the Canary Islands unofficial eighth isle. Allegedly the setting for Robert Louis Stevenson's Treasure Island, these days you'll find more yachts than pirate ships. Playa Francesa, La Graciosa's Southern belle of a beach is a 45-minute hike from capital Caleta de Sebo. 
The locals in Caleta de Sebo sweep the bonsai metropolis' streets clean of sand each morning. Where the only way to get around is by 4X4, bike, or Shanks' Pony. Which option will you choose? 
Municipality: Teguise 
Beach length: 435 metres
Best for: Families, groups of friends and snorkelling enthusiasts.
 Playa Flamingo
The palm trees and parasols will keep you cool as the heat of a year-round summer beats down. Further shade is provided by the terraces of the bars and restaurants on the promenade above this popular beach in Playa Blanca. Do wear flip flops though, to protect your feet from the white (hot) sand.
Municipality: Yaiza 
Beach length: 200 metres
Best for: Families, groups of friends.
Playa de las Conchas
On the small island of La Graciosa, you will find a collection of small coves known as Playas de las Conchas. One of these is La Graciosa beach the place for acquiring an all-over tan rather than a spot of swimming but is one of the best nudist beaches in Lanzarote. Just look at those waves. If you've never tried naturism before, this is as good a place to start as any as there are easily more shells than people.
If you do brave the water, it won't be for long as the current has a boomerang effect. Best to lie back and look at the neighbouring isles of Montaña Clara, Roque del Oeste, and Alegranza. Minimise your activity and embrace slow living instead. 
Municipality: Teguise 
Beach length: 610 metres
Best for: Naturists, nature lovers, couples.
Playa Blanca
Visit Playa Blanca and experience the old fishing village with all its. Today it has one of Lanzarote's most popular beaches and most family-friendly resorts. Close to the many restaurants and bars.  Only a short 10-minute wonder down from the bus station to the beaches. 
Municipality: Yaiza 
Beach length: 40 metres
Best for: Families, groups of friends.
Playa Chica
Rent a luxury villa in Puerto del Carmen to be right on the doorstep of one of Lanzarote's prettiest little beaches. Playa Chica is a sheltered beach known for its very calm waters. Making this a really popular area for divers, eager to catch a glimpse of the not-so-elusive Felix, a 50-kilo grouper fish. 
Municipality: Tías 
Beach length: 90 metres
Best for: Divers, couples, families.
Playa Caletón Blanco
Just like on other Canarian Islands such as Gran Canaria and Tenerife, Lanzarote's north coast has a stretch of shoreline which many visitors miss out on as they head down to the resorts in the south, but here you can find some of the best beaches in Lanzarote. Don't miss out on Órzola's Caletón Blanco beach. Where ebony, as in the dark black lava rocks, and ivory, as in the bone-white sand, sit together in perfect harmony.
Part of the malpais (badlands) belonging to La Corona volcano, this is a Lanzarote beach gone wild. There is no car park, meaning you can leave your vehicle on the beach itself. The natural swimming pools created by the tide are great for young paddlers and only a stone throw away from many of our  luxury villas here in Lanzarote.
Municipality: Haría 
Beach length: 500 metres
Best for: Nature lovers, families.
Playa de Mujeres
Papagayos busiest and largest beach frequented by the most people all year around. Due to its position as the first in a chain of beautiful sandy beaches it is bound to be the most popular. Playa Blanca is the ideal destination for lovers of all things beach. For those that would rather wonder around and take in the history will love exploring the ruins of a limestone quarry and world war two bunkers. Playa de Mujeres is also a popular beach for naturists in Lanzarote. 
Municipality: Yaiza 
Beach length: 395 metres
Best for: Naturists, groups of friends.
Playa de la Cera
A third and final Papagayo beach is also the last on the list of top 10 best beaches in Lanzarote. Again like the other Playas de Papagayo, its beauty is partly preserved by its inaccessibility. So rent out a jeep or pop on your hiking boots to reach one of the island's natural wonders by dusty old road. 
Municipality: Yaiza 
Beach length: 105 metres
Best for: Couples, nature lovers.
Need More Information About Our Villas set Close to the Beach?
Fill out the form below and we will get back in touch within 24 hours.
Holiday Homes Close To The Beach
Calle Princess Ico 39, 35510
Beds:

4

Baths:

4

280

m²

4 Bedroom Villas
Details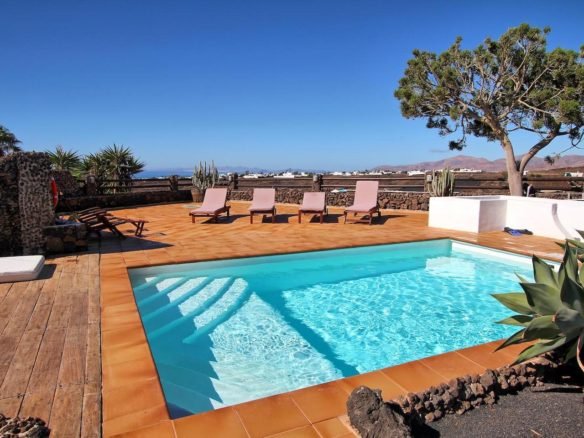 Calle Las Fragos 2, 35572
Beds:

3

Baths:

2

190

m²

3 Bedroom Villas
Details